Reviive Body Wash
To Receive a PDF of this Page/Article...
Enter your Email Address
Gentle. Fresh. Clean.
These are the qualities that majority of consumers want when looking for a body wash. Of course, you want to be clean and fresh all day when talking and meeting other people. It would surely be disgusting to note if your clients would remark that you have a bad odor. That would be so embarrassing.
If you are looking for a body wash that is gentle on the skin and will surely make you fresh and clean all over, use Reviive body wash.
Reviive body wash will make your skin look radiant and cleaner than ever with its hypoallergenic luscious formula that is made from certified organic ingredients.
One of the unique ingredients used in Reviive body wash is sweet blue lupine extract, which provides water-soluble protein and beneficial peptides that improve the skin's elasticity and protect it from sun damage.
Other ingredients used in Reviive body wash are white tea and coconut oil.
White tea contains high amounts of antioxidants that help boost cardiovascular health and anti-aging properties that help maintain healthy skin and good health. It also protects the skin from sun damage.
Due to its antibacterial properties, white tea protects the body against various bacteria that cause different kinds of infection.
Coconut oil, known as a "superfood," contains a considerable amount of lauric acid, which kills harmful pathogens such as bacteria, viruses and fungi and is therefore potentially helpful in preventing infections.
Studies show that coconut oil is an effective skin moisturizer since it can improve the moisture and lipid content of the skin, making it the perfect treatment for dry skin. It also helps protect the skin against sun damage by acting as an effective sunscreen, blocking about 20% of the sun's ultraviolet rays.
These are just some of the benefits that white tea and coconut oil can give to people.
All these ingredients of Reviive body wash are free from PEGs (polyethylene glycol), sulfate, parabens or preservatives, phthalate, PCB, Ammonia and gluten.
Phthalates and PEGs are believed to damage the kidneys and liver and are suspected to cause certain kinds of cancer while parabens have been linked to allergies, autism and also cancer.
Ammonia is a colorless, highly irritating gas with a pungent, suffocating odor that can cause irritation on the skin while gluten is a mixture of proteins found in wheat and grains such as barley and rye that has been linked to some conditions like tiredness, bloating, memory loss and skin spotting.
Gluten also causes inflammation in the small intestines of people who are afflicted with celiac disease.
Just imagine if your body wash is mixed with all of these harmful ingredients. You are surely exposing yourself to chemicals that can harm your overall health. So for a non-toxic yet indulging body wash, choose Reviive body wash.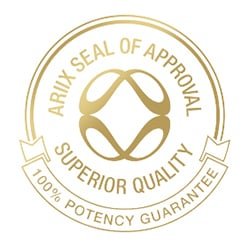 ARIIX provides unique high-quality products meeting consumer demands in the health and wellness industry for complete & balanced nutrition, weight loss management, water & air filtration, personal care products, essential oils, and anti-aging skincare.
The ARIIX Products are…GLUTEN FREE, NO SOY, NO DAIRY, NO GMO, NO ARTIFICIAL FLAVORS, NO ARTIFICIAL COLORS, NO ARTIFICIAL SWEETENERS, NO SUGARS, NO BINDERS, & USE NO FILLERS!