How to Prevent Heart Disease In 3 Ways
Heart Disease
You might think that heart disease starts when you grow old, or when you reach your forties or fifties. That's when most people start to have heart problems, and blood problems just like hypertension. Most people don't realize that heart diseases aren't limited to the age of a person, or even how healthy a person is. Some are even born with it. The kind of health we were born with as humans do not define us. But we are defined by how well we take care of it. We are all given the responsibility to tale care of our God-given body. That is why we should know how to prevent heart disease. More than just preventing, we should know how to take care of ourselves.
Heart disease is no joke. Heart disease may be a leading cause of death. This might seem scary but this is the truth. Having heart disease is like having a day to day appointment with death. Because one wrong move can lead you to an early grave. Lack of exercise, a poor diet, and other unhealthy habits can actually encourage heart diseases to occur. One should have a balance of everything good to achieve the healthy body everyone dreams of. It's not easy to prevent, but it is possible. Better start now before it's too late.
How to Prevent Heart Disease
1. Avoid smoking cigarette and tobacco
This is an obvious prevention. Smoking cigarettes and tobacco can affect your health in ways more than one. It can also affect your lungs and your brain. It is one of the most significant risk factors for developing heart disease. The chemicals in tobacco and cigarette can damage your heart, leading to the narrowing of the arteries which can cause a heart attack.
2. Eat a healthy and controlled diet
"You are what you eat" goes the saying. What you eat affects everything in your body. How well you eat, what kind of food you eat, and every when you eat are 3 different factors that affect your body greatly.
"How well you eat" is best explained as to how much you intake. Eating too much or too little of something is bad. Eating too much or not eating at all is also bad. Too much and too little can greatly affect your health, especially your heart.
"What kind of food you eat" explains itself. Whether you eat a lot of fats, junk carbonated drinks or you eat fruits and vegetables.
"Every when you eat" is another different story. What time of the day do you eat? You say you have a healthy balanced meal but you have a wrong scheduling of when you eat can also affect.
3. Exercise your heart out
Fifteen minutes of exercise daily is enough to keep your heart going. But mind you, exercising can be done when you actually eat well and sleep well. Because exercising without the proper sub-aspects can still lead you to have health problems, worst case scenario – heart diseases. Whether it be a long walk or a 30-minute cardio, it's always a good idea to exercise.
Reminder: It's always better to be safe than sorry
Omega-Q by Nutrifii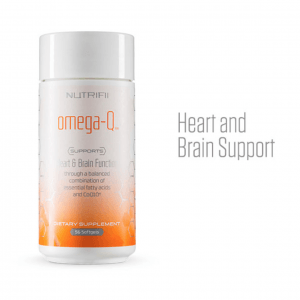 A unique blend of essential omega fatty acids and the coenzyme Q10 – two of the most powerful ingredients on earth for sustaining overall health. This combination supports the heart and brain functions.
Ariix presents Omega-Q by Nutrifii. Made from premium-quality CoQ10 and Omega-3 fatty acids. These play complementary roles in human health, aiding in normal growth and development. And at the same time, act as building blocks for cells in vital organs.
To Maintaining Good Health,
The ARIIX Products Team
www.AriixProducts.com
Please Like & Share…Thanks!