ARIIX R&D—Quality – Product Testing Part 2 of 3
To Receive a PDF of this Page/Article...
Enter your Email Address
Product testing is performed using a variety of instruments and traditional chemistry and microbiological techniques. (Photos below courtesy of ARIIX Manufacturer and Microbiological Testing.)
Traditional microbiological testing involves the use of culture tubes, petri plates and culture media. Tests are performed using different culture media, which promote or prevent the growth of the microorganisms in question. For example, in standard testing for Staphylococcus aureus, media containing certain sugar metabolized by Staphylococcus, along with elevated levels of salt, which prevent the growth of other types of bacteria, and a chemical which changes color in the presence of acid (which is produced as the bacteria metabolize the sugars) are used to indicate the presence of S. aureus in a sample.
PETRI PLATES CONTAINING MICROBIOLOGICAL CULTURE MEDIA.
A MICROBIOLOGIST PREPARING SAMPLES BY ADDING DISSOLVED PRODUCT TO PETRI PLATES.
These traditional microbiological tests can take several days, as they rely on the growth of microorganisms into colonies which can be counted visually, which is quite slow. In recent years, instruments which speed up these tests have become more common. These instruments operate on a similar principle — promoting or preventing the growth of microorganisms by culture media — but use special receptacles for the samples and media and sensitive detectors which can measure changes within the culture to calculate the quantity of microorganisms present.
SAMPLE RECEPTACLE CARDS FOR RAPID TESTING.
RAPID TEST READER INSTRUMENT.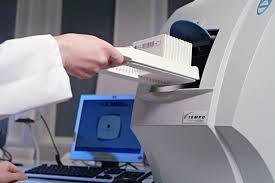 Microbiological analysis seeks to answer two questions: (1) "What kind of microorganisms are present in a sample?" and (2) "How many microorganisms are present in that sample?" Typical microbiological tests include some generic tests, such as:
Total Plate Count — a measurement of the total bacterial count in a sample.
Total Yeast & Mold — a measurement of the total fungal count in a sample.
Total coliforms — a measurement of the total count of bacteria of a family to which several pathogens belong.
Plus specific tests, including targeted screens for pathogenic bacteria:
Presence of Salmonella
Presence of Staphylococcus aureus
Presence of coli
ARIIX maintains strict specifications for our products to ensure they are free from harmful microorganisms.
Microscopic Analysis
One method for establishing the Identity of herbal ingredients is through Microscopic Analysis. This method requires extensive training and some sophisticated microscope equipment, but it is very useful in verifying the Identity of herbal ingredients used in ARIIX products. Our manufacturer is one of the few laboratories in the U.S. to use this method and is recognized as an expert in this field by many in the industry.
MICROSCOPIC ANALYSIS EQUIPMENT.
Reprinted from Ariix.com/blog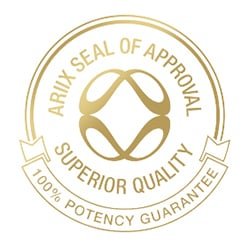 ARIIX provides unique high-quality products meeting consumer demands in the health and wellness industry for complete & balanced nutrition, weight loss management, water & air filtration, personal care products, essential oils, and anti-aging skincare.
The ARIIX Products are…GLUTEN FREE, NO SOY, NO DAIRY, NO GMO, NO ARTIFICIAL FLAVORS, NO ARTIFICIAL COLORS, NO ARTIFICIAL SWEETENERS, NO SUGARS, NO BINDERS, & USE NO FILLERS!