Acai Bowls: Everyone's Favorite Trendy Breakfast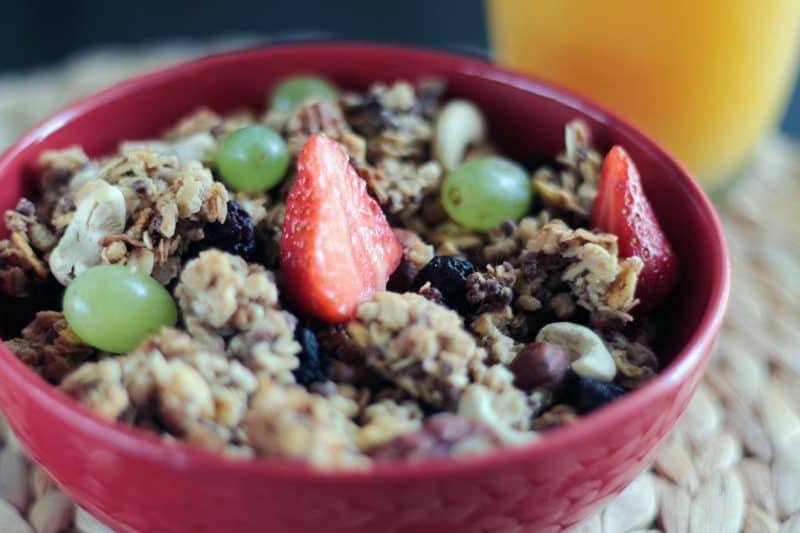 You probably noticed the many trendy meals suddenly appearing on social media. One of which is a bowl of fruits swimming nicely in purple cream. This sweet bowl of fruity goodness is the popular Acai Bowl. It is a local dish that originated in the beautiful beaches of Brazil. This fruity paradise owes its Instagram fame to its anti-aging prowess, weight loss properties, immunity boosting capabilities, and many other health benefits. Last but not least, the Brazilian acai berry dish looks good and tastes delicious at the same time!
How would you know that an acai bowl is not merely a bowl of fruit with purple ice cream? An acai bowl is made with frozen acai pulp and served as a smoothie in a bowl. In Brazil, the locals call it "acai na tigela" which literally translates to "acai in a bowl." You then mix it with guaraná syrup, banana, granola, and other fruits or berries. Most of the added ingredients include coconut, strawberries, blueberries, and other healthy toppings of choice.
Depending on the number of fruits and berries you added, each bite offers something different. That is something that a regular smoothie can't offer. While acai bowls offer a surprise in every spoonful, the taste remains the same no matter how long you sip on a smoothie. Speaking of smoothies, you can normally purchase an acai bowl in any local smoothie or juice station. Alternatively, you can choose to make one yourself since it's super easy to make. You can even create your own recipe at home with fruits you prefer or ones that are available in your area as long as you have the main ingredient – the wonderful purple pulp extracted from acai berries.
What is an Acai Berry?
Acai berry is a grape-like reddish-purple fruit from acai palm trees only found in Central and South American rainforests. You pronounce acai as as-sigh-EE and it's most likely that everyone pronounced the name wrong. Many consider this tiny purple wonder as a superfood because it is rich in antioxidants plus, it has anti-aging and weight loss capabilities. You can buy this online or in your nearest local grocery stores in either frozen puree packs or a freeze-dried powder.
Benefits of Acai Berries and Acai Bowls
Here's a quick list of some of the many benefits that you can get from acai berries:
rich in antioxidants that combats free radicals
Anti-aging properties
boosts the immune system
heals damaged cells
promotes healthy heart and skin
aids in weight loss
improves mental function
improves blood circulation
increases energy and stamina and at the same time fight fatigue and exhaustion
rich in fiber that aids in digestion
low in sugar
An acai bowl is a good source of clean energy and it gives you a feeling of satisfied lightness. For this reason, it is the breakfast of choice among surfers in South America, Hawaii, or any other beach for that matter. But whether you're a surfer or not, it is the perfect dish when you're having a vacation in a tropical place and the sun is up.
With the benefits above, acai bowls certainly hold a lot of promise. This seems to give you license to load up on fruits and wolf them down in one sitting but if you're looking to losing weight, you may have to hold your horses. The Brazilian bowls pack a lot of sugar, which causes your blood sugar to spike and plummet, and this might leave you feeling hungry after finishing a bowl. Aside from that, you're probably consuming more calories than your body needs for the day. That being said, this does not mean that you need to stay away from these fruity purple bowls if you intend to eat healthily.
Making a healthy bowl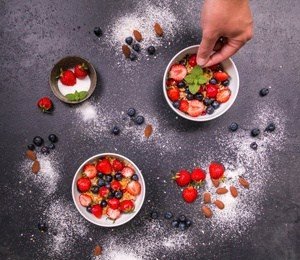 Since they are easy to prepare, why not make them yourself? That way, you'll know what and how much ingredients goes into it. Make sure to control the toppings you put in your bowl. Coconuts, granola, and nuts may be tempting but they are high in calories. The trick is to limit yourself to one or two toppings. Another thing to note is sweeteners. Since you already get so much sugar from all the fruits you added, you may want to pass on honey and other sweeteners.
Speaking of sweeteners and sugar, protein is known to help regulate blood sugar. As such, it might be a good idea to add peanut butter or almonds into the mix. There is plenty of other food rich in protein that you may want to load up on. Another way to balance out the sugar is to add some greens. If you like kale or spinach, blending these with the acai puree
The massive bowls you find on Instagram certainly looks photogenic but you might want to opt for a smaller bowl when it comes to your breakfast. Most of the recipes online also tend to use a huge bowl so a good option is to take all measurements of the recipe in half instead.
Overall, acai bowls and your goal to eat healthy go hand in hand as long as you're able to control your portion size and the ingredients you add.
If you're looking for a healthy acai treat, why not try MOA?
MOA is a super nutritional blend that contains acai juice as well as 34 other superfoods. Moa is one of ARIIX's many lines of nutritional supplements that makes use of acai berries due to its energy boosting capabilities.
With the help of acai berries as well as other superfoods and superfruits, Moa provides plenty of nutrients and antioxidants. It also has an exclusive mushroom complex that helps in boosting the immune system. It includes a bargamot premier formula, a breakthrough extract that's sure to improve the metabolic and cardiovascular system. All these ingredients are blended meticulously in a manner that when it enters the body, it will have an immediate and active effect.
What makes Moa even better is the fact that no preservatives are added, ingredients are non-GMO, they are free of pesticides or any other contaminants, contains no artificial flavors, and everything is 100% natural.
Please check out our Facebook page for more information on acai berries and feel free to contact us anytime!
To Maintaining Good Health,
The ARIIX Products Team
www.AriixProducts.com
Please, Like & Share…Thanks!